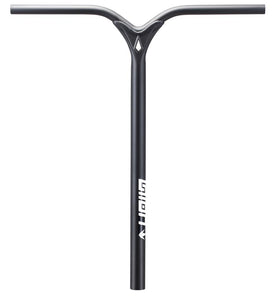 Envy Union V2 Scooter Handlebar Black
The V1 Union bar took the world by suprise. Every rider wanted a pair for themselves but no shop could keep them on the shelves. The V2 is now new and improved featuring a stronger bar but the same unique design. These bars are Aluminum so if you're looking for a light pair of bars for you're next custom scooter, than these are the bars for you! 
Please be advised aluminum bars are not recommended for all riders. Aluminum bars are commonly used in the younger and smaller sized rider demographic. Due to aluminum being very lightweight the main factor to take into consideration is that they will not be as strong as a steel/ chromoly or titanium handlebar. Throwing your scooter in anyway whether intentional or not can easily cause these bars to bend or break so please be careful and take these factors into consideration when purchasing the product. 
diamater.
---
We Also Recommend