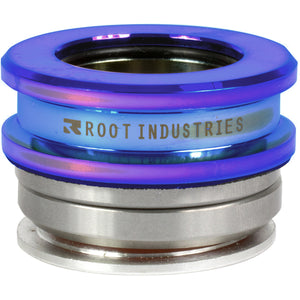 Root Industries Tall Stack Integrated Headset Blu Ray
The Root Industries Air tall stack integrated headset is designed specifically for integrated scooter decks. Manufactured to exact specifications and to Root Industries usual high standards, this headset is so smooth you'll be left wondering how you managed without it.
Tall stack headsets are designed for the purpose to avoid having to use spacers on your scooter. The tall stack headset incorporates an extra 7mm of headset height, which removes the need for spacers on almost any SCS set-up.
The great thing is that Root Industries has designed this headset so that it creates a seamless transition from deck to bars, giving your scooter a really slick and neat look.
The Root Industries Air tall stack headsets are endorsed by the Root Industries team, and also are the favorite headset of most of the Scooter Hut team. These headsets come with two internal washers to give your headset more cushioning to help prevent headset wear.
---
We Also Recommend