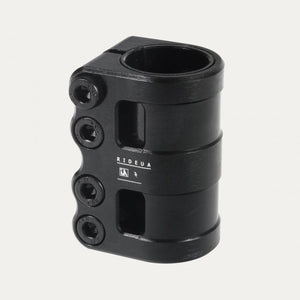 UrbanArtt Cyro SCS Clamp - Black
Go for the ultimate clean looking clamp or the one with the highest compatibility, your choice, with this Cyro SCS clamp that is packed with options
As a unique thing, this clamp is available in a "mini" version that is only compatible with standard sized bars. This gives it a very clean look when mounted. If that is not your thing, the classic combo of oversized/standard compatibility is still up for grabs, with the oversized version that comes with a shim.
Lightened where possible, strengthened where needed
You get a low weight clamp thanks to a carefully thought out design, that still has plenty of strength left for it to be a durable clamp
Strength also comes from the inserted steel threads, that have far better durability and clamping power over regular threads cut directly into the aluminum.
Clamp inner diameter:
32mm (Regular), 35mm (Oversized)
Compression system included:
SCS
Compression Bolt:
Included
Compression Bolt length:
34mm
---
We Also Recommend